What project management standards we use and recommend?
Hereafter some informations about the excellent PM methods we use and which are part of our success –

Below one of the best and most used 'waterfall' project management methods combined with an industry level quality management that we understand as a standard project management model in classic ITPM. In cases clients are unsure which PM method fits best we recommend in a classic PM environment this a master template and tailor this high-value, proved and certified method to the precise needs.

In general as a standard we would refer to 'Scrum' for a one team project though there is usually a need for some adjustments to get a tailor-made method that perfectly suits your needs.
The agile project management world is still experimenting with a large variety of tools and proceedings to suit the wide variety of a highly divers project world. Last trend is the combination of methods and proceedings like 'Scrumban' to get the best out of all worlds.
Therefore maybe the best advice we can give at this time is –
do not underestimate the efforts the resources and the budget that are necessary to make 'agile' a success
cast every role of your agile model with an experienced coach or consultant to support your staff
start from where you are – now
Scrum – values, principles & roles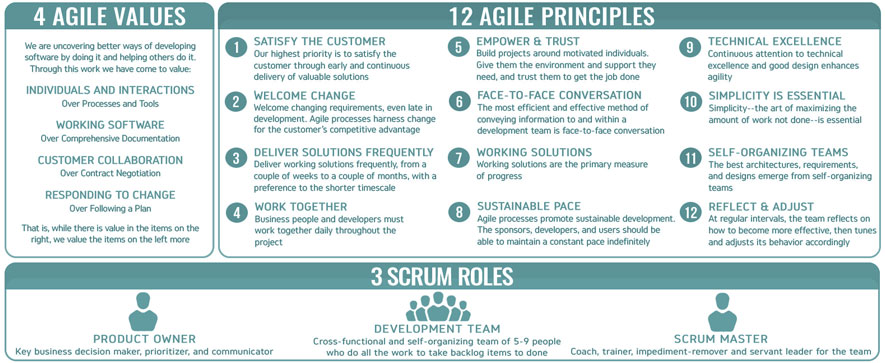 There are a couple of other probably less popular project management standards we've been in touch like –
All the above mentioned project management standards are valuable tools to bring your IT projects to the deserved success. Ask if you're unsure which tool is the right one for your particular situation – we're glad to support you with our wide range expertise.
We provide you with –
Project Managers or Project Owners – doing and consulting – whoever is needed
highly experienced professionals to help you run your projects whether classic or agile
the top expert knowledge about project managing processes, guidelines and principles
the qualified methods to make your projects a success
the best working tools to avoid any waste of time
all the assistance you'll need to become agile by yourself
Better you get in contact with us. Now