Isn't ITIL all we need to perfectly transform our service strategies, ideas and requirements into a well oiled customer-centered service machinery providing immediate IT services at any location and time wether day or night for any kind of IT service or infrastructure that we use and will use brought to us and all our clients by our young IT heroes who not only drop every other job immediately when anybody cries for help and understand any kind of IT problem without a word of explanation but solve all these incidents and problems now and forever at a cost rate that isn't worth the time to talk about, is it?
Well, let's be realistic. Though ITIL in general is surely one of the most used IT service management frameworks of today, it will need a few additional efforts to get close to 'service paradise' described above. But then in reward –
10 Benefits of ITIL
Stronger alignment between IT and business
Better forecast and overview of service costs
Reduced costs through improved utilization of resources
Better collaboration between customer, business & IT
Improved service delivery and customer satisfaction
Better management of service disruption or failure
More stable IT environment to support business
Less downtime in case of unexpected impacts or incidents
Clear workflows and agreements make IT more reliable
Less turnover of IT staff generates a higher level of professionalism
Managing Practices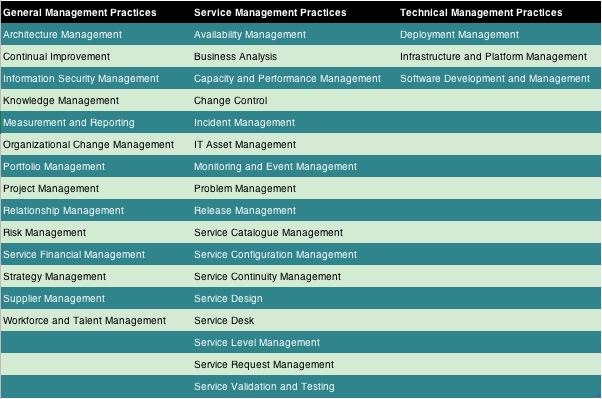 Service Strategy
Service Portfolio Management
Asset Management
Service Demand & Capacity Management
Financial Management
RiskManagement
Business Relationship Management
Service Design
Service Catalogue Management
Service Level Management
Supplier Management
Capacity Management
Availability Management
IT Service Continuity Management
Information Security Management
Design Coordination
Service Transition
Transition Planning and Support
Change Management
Service Asset and Configuration Management
Release and Deployment Management
Knowledge Management
Service Validation and Testing
Change Evaluation
Service Operation
Event Management
Incident Management
Problem Management
Request Fulfillment
Access Management
Continuous Service Improvement
Service Desk
Application Management
Technical Management
IT Operational Management
New Key Concepts
Values
Collaboration
Outcomes
4 New Dimensions
Organizations & people
Information & technology
Partners & suppliers
Value streams & processes
Dimensions and value relation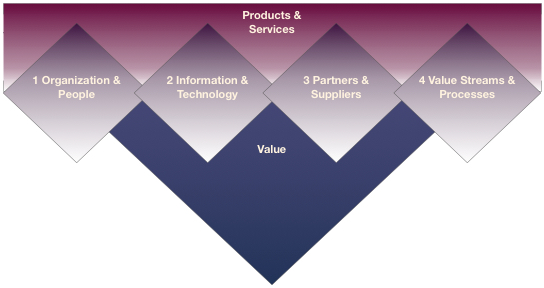 The New Service Value Chain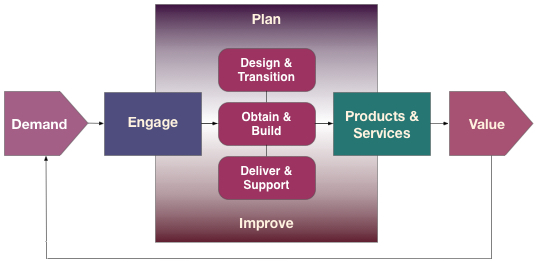 The Unbeatable Package
We provide you with –
the knowledge to make you the high esteemed service provider
for any service demand your business will bring up
whether by your customers or your internal departments and staff
the qualified methods
the expert knowledge about processes
the best working tools
and last not least ITILv4
the modern best practise IT service framework that is your reliable compass in IT service integration and management.

Avoid pitfalls and get in contact with us. Better now.