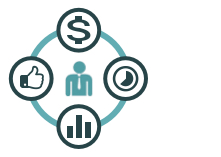 Scope • Time • Budget • Quality
Whatever IT project management standard you prefer we help you to find the best method to lead your project to the expected success. With more than a decade of comprehensive ITPM experience in huge enterprises we'll setup the perfect project management for your next IT project and support you in achieving the desired project goals. Even projects in critical  situations benefit from our experience in project emergency management. Back to a controlled environment. Whatever your needs are in IT project management – we are your reliable partner.
Fast, tailor-made, cost-conscious.